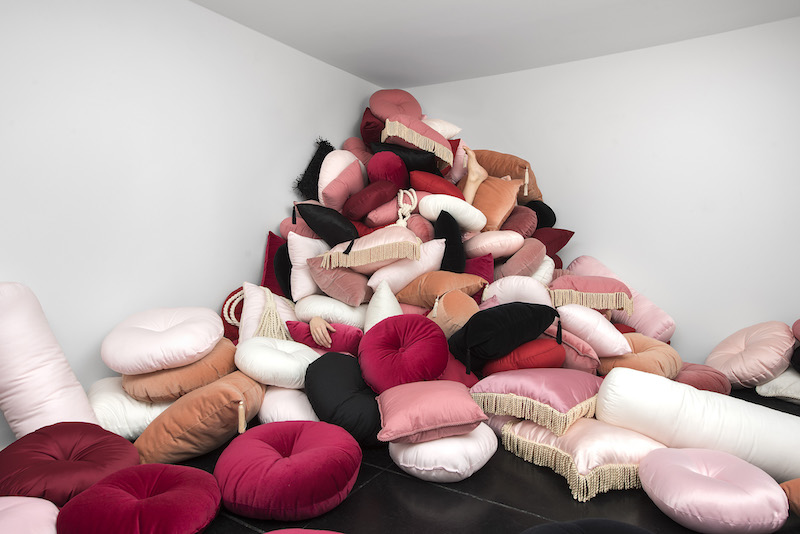 Patrizio Di Massimo
Inside Me
ChertLüdde, Berlin
27 April – 16 June 2018

On the occasion of Gallery Weekend Berlin, ChertLüdde is pleased to present the first solo exhibition of Italian artist Patrizio Di Massimo (b. 1983, Jesi, Italy; lives and works in London) in Germany.
The show, titled Inside Me, revolves around themes and productions significant to the last years of the artist's research: paintings, sculptures and installation regarding the topics of ambiguity, luxury, desire, sexuality and domesticity among others. When entering the space (which is architecturally reminiscent of the labyrinthine shape of an apartment), the visitor is introduced to a new series of paintings, whose subjects feature a couple engaging in a variety of actions and masquerade – locking horns, playing erotic games and dressing as Dracula or a priest – before finally resting together peacefully in bed. The subjects in Di Massimo's work always point to the artist and his wife, a perpetual insertion of self and exploration of possibilities.
Together with the paintings, Patrizio Di Massimo will present two of his large-scale tassel sculptures, a seductive representation of a classic decorative element linked to high society. These human-sized works seemly occupy the center of the rooms as the main actors on a stage, boasting as embodiments of opulence and luxury. Yet they also convey ambiguity and camouflage, two key aspects in Di Massimo's work.
The last piece presented is the installation and performance Inside Me, a pile of pink pillows where human hands and feet can be seen protruding outwards, while the rest is left to one's own imagination.
——
Patrizio Di Massimo (born Jesi, Italy, 1983) lives and works in London. He graduated from the Slade School of Fine Art, London.
Recent and upcoming solo exhibitions include: "Inside Me", ChertLüdde, Berlin, 2018; "Bread and Circuses", Rodolphe Janssen, Brussels, 2017; "vitrine", NICC, Brussels, 2016; "Nipson anomemata me monan opsin", Monteverdi Gallery, 2015; "Are, Ere, Ire", T293 Rome, 2014; "Me, Mum, Mister, Mad", Kunsthalle Lissabon, Lisbon, 2014; "The Lustful Turk, Gaswork", London, 2013; Il Turco Lussurioso, Villa Medici, Rome, 2012; and a performance at the Stedelijk Museum as part of the public program, 2012.
Recent group exhibitions include: "Somatechnics", Museion, Bollzano, 2018 (upcoming); EVA International, Ireland's Biennal of Contemporary Art, Limerick, 2018; "Total Anastrophes", Dhakar Art Summit, Volcano Extravaganza, 2018; "Through the Looking Glass", Palazzo Capris, Turin, 2017; "Take me (I'm Yours), Pirelli HangarBicocca, Milan, 2017; "Grim Tales", Cassina Project, New York, 2017; "Sette Messaggeri", Marselleria, Milan, 2017; "Predictions, Mendes Wood Gallery, Sao Paolo, 2016; "Mundus Muliebris" Cura Basement, Rome, 2016; "Ennesima", Triennale, Milan,2015; "I am here but you have gone", Fiorucci Art Trust, London, 2015; "Don't you know who I am", M HKA, Antwerp, 2014; "Portrait of the Artist as a young man", Castello di Rivoli, Rivoli, 2014; "Baker and Le Courbusier in Rio, a transatlantic affair", Museo do Arte do Rio, Rio de Janeiro, 2014; "The 338 Hour Cineclub", Fondazione Sandretto Re Rebaudengo, 2013; "It may be that beauty has strengthened our resolve", ParaSite, Hong Kong, 2013.
In 2012 he was selected as a finalist in the "Premio Italia 2012", hold at MAXXI, Rome. In 2010 he co-curated the exhibition, "More Pricks Than Kicks" with Vincent Honoré at the David Roberts Art Foundation, London and in 2009 he had his first solo presentation within the program "Zilkha Auditorium" at Whitechapel Gallery, London.